Ello & RTB101 Misc. Sales...
ELLOWYNE AND RTB101 BODY - ITEMS FOR SALE:
UPDATED 2/17/22.
Please note only outfits as described are included. I will answer emails in the order they are received.
Email me to purchase at davisdayle@gmail.com, saying *I intend to purchase & I can PAYPAL NOW!* so I don't misunderstand & sell out from under you -- that way, no feelings get hurt. Speedy payment please. I usually ship same day if the PO is open. All forms of paypal okay EXCEPT NO e-checks.
For those who know me, Friends and Family would be greatly appreciated.
The cost of shipping will be added to the sale. ALL ITEMS over $50 WILL ALSO HAVE THE COST OF INSURANCE ADDED THE SALE.
Please include your zip code & ADDRESS when you email me so I can figure shipping costs. No time payments. No holds. Internationals welcome if we have had successful business dealings in the past.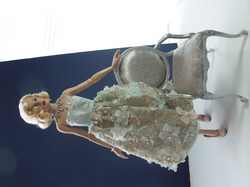 Cocktail gown sized to Ellowyne and RTB101 body with blue silk bodice and underskirt, netting encrusted with pearls, glass beading, floral embellishments applied against silver embroidery adapted from Tamara Casey's Sophisticated Lady pattern. Note: Due to Ello's boxy torso, fashion tape may be needed to hold the bodice in place. $95 SOLD