ELLO GOWNS #4 AND #5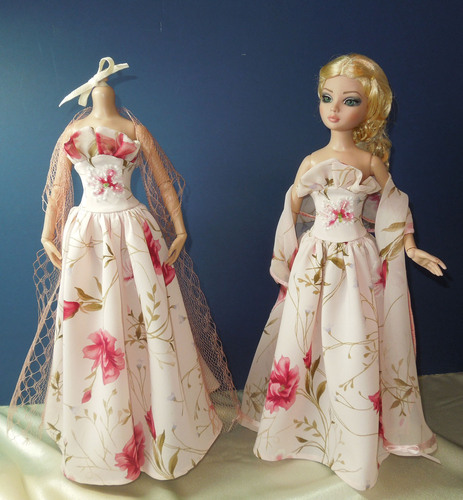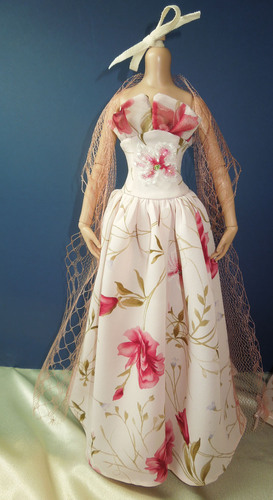 ELLO #4 GOWN and #5 GOWN
Gowns of flowing floral crepe. Bodice ruffle edge in matching floral design in sheer chiffon.
Hand beaded bodice front with glass seed beads and bugle beads. Green Swarovski crystal at center.
Gowns fasten with snaps at back.
#4 wrap is antique millinery trim
#5 wrap is matching sheer chiffon floral design with satin bow trim at each end.
*bears private label of Dayle in Ohio
Doll, wig, jewelry and any other props not for sale.
Non-smoking home. All sales final.
Each gown is $75 plus shipping costs -- and insurance, when required
No counter-offers or bartering accepted at this time. Thank you.
Internationals welcome
All forms of Paypal accepted except e-check
Email: davisdayle@gmail.com
WITH REGARD TO PRICING:
Antique textiles and laces are priceless and irreplaceable.
Every garment I create with these items is inherently OOAK and can be purchased nowhere else in the world.
They are priced accordingly.
Please note: If this garment is made from vintage or antique fabrics or laces, please be aware that many of the vintage and antique lace fragments used to make these doll fashions are precious and irreplaceable -- some were finely hand-embroidered by skilled hands more than 125 years ago -- a skilled craft long gone and one never to be repeated in the years ahead. The antique pieces are a variety of fibers including silk, linen and cotton. As with anything over a century old, they bear a few aged characteristics, including vintage darning and mending, and are inherently delicate. Handle with special care. The vintage pieces also can show their age and should also be handled with care. They may consist of silk, rayon, cotton, linen, nylon or other synthetic fibers. Also, the aged fibers may accept fabric dye unevenly.